Countries where VIDA provides Assistance
VIDA-USA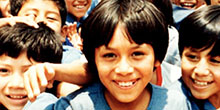 Since our origins 19 years ago we have sent over $350 million in medical supplies to Latin America. At the start of 2010 we had diverted over 1,500 tons, almost 3 million pounds, of usable medical equipment and supplies from Bay Area landfills over 20 years, shipping them to countries in need.
In doing this we have been extremely cost effective as it only cost $1 to provide $150 of medical supplies and over 98% of our budget goes to our programs.
Our office/warehouse is located in Emeryville, CA – near the shipping port of Oakland. Volunteers to sort medical supplies are needed year-round M-F / 11am-5pm – please feel inspired to arrange to volunteer as an individual, small group or as company team building event.
Peru
Since its origins in 1991, VIDA-Peru has worked with 1200 health care facilities and social service programs throughout Peru, north to south, from coastal cities to Andean villages and Amazon communities.
One such benefactor is the refugee camps outside of Ica, Peru where water is a scarce resource for families displaced by El Niño flooding. VIDA has worked closely with community leaders in the camps to provide medicine and medical supplies for children.
VIDA-USA was founded in response to a cholera outbreak in 1991 and since then we have shipped 200 containers, worth over 225 million to Peru.

Ecuador
Since 1998, VIDA has partnered with Child Family Health International (CFHI) to equip teams of doctors and medical students who travel to indigenous Shuar communities of the Ecuadorian Amazon in efforts to establish primary health clinics in the region.
VIDA expanded its program in Ecuador in 2001 to include the shipment of ocean freight containers carrying large amounts of medical supplies and equipment that have been distributed to health facilities in the Andean town of Cuenca and in the main cities of Quito and Guayaquil. In 2003 VIDA partnered with the Junta de Beneficencia de Guayaquil, a 115-year old charity that runs 4 large hospitals as well as several clinics and nursing homes in this large port city providing mostly free medical service to over over half a million of the poorest each year, to provide them with the large quantities of medical supplies and equipment that they desperately need.
Today Ecuador is our second most active country having received 90 containers.
Chile
in Response to the 2010 earthquake that ravaged the coast of Chile VIDA is working with our long-time partner Fundacion FEDES, a Chilean NGO to distribute the supplies and equipment to hospitals and clinics operating in the city of Curicó and the Region of Maule.
On Monday, March 22, VIDA shipped its first container carrying $1 million in medical supplies to Chile in response to the devastating 8.0 earthquake that destroyed the country's southern region.
VIDA sent its second and third container shipments to FEDES in June 2010 in collaboration with U.C. Berkeley's Haas School of Business Chilean Alumni Association, Quicksilver, and Cliff Bar.
Reports from Steven Colon, founder of FEDES are dire. "We traveled to the Region of Maule, where several of the larger public hospitals are uninhabitable. On our first trip we visited the city of Curicó. 90% of the downtown area of the city is in shambles, with shops, churches and over 2,500 houses destroyed. Population in this city is 136,000. The Curicó public hospital was also completely devastated (we weren't able to go near it because it's under military protection due to the danger of collapse). At the time of the quake, the hospital had 350 beds taken up and all of the patients had to be evacuated."
Guatemala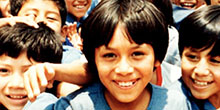 VIDA has collaborated with the Rotary Club of Guatemala to promote access to health care services throughout the country. An important beneficiary of the partnership is the Hilario Galindo Hospital in Retalhuleu. After being abandoned for twelve years, the Rotary Club completely renovated the building while VIDA supplied it with the necessary medical equipment. The cooperative effort allowed the hospital to re-open its doors in August of 1998.
Cuba
In 2001, VIDA started making containers full of medical aid destined for Cuba. VIDA worked through Cuban Health Network , a non-profit organization from south-east United States which has been taking aid to Cuban hospitals and smaller clinics in need of medical supplies for several years in a smaller scale.
Haiti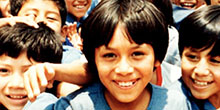 In the immediate aftermath of the devastating earthquake in Haiti, VIDA quickly responded by airlifting two containers carrying $2.0 million in medical emergency relief into Haiti's triage supply chain.
VIDA is in the planning phase with our Haiti and USA partners for a three year program to annually ship twelve containers of medical supplies and equipment to hospitals in Petit-Goave, Paillant and Miragoane. These hospitals were decimated in the quake and served hundreds of thousands of Haiti's poorest citizens.
This effort has requires extensive planning due to the infrastructure challenges facing Haiti as well as the increasing customs regulations with importing medical aid into the country as the nation now is in the rebuilding phase. Roads, buildings, medical supplies, medical equipment and trained medical personnel are inadequate but are critical in carrying out a sustainable program. This reality requires that VIDA and its partners undertake extensive planning and due diligence to ensure the program's success. Upon completing the panning phase, VIDA will be sending only the highest quality medical equipment and supplies, from bandages to surgical suites, to get the hospitals up and running and will then resupply the hospital over a three year period to ensure that the clinics have the resources to serve people in need.
Jamaica
Food for the Poor, INC. an American organization based in Florida dedicated to feed and dignify lives in 16 countries over Latin America and the Caribbean, partnered with VIDA to help furnish 78 hospital suites.
El Salvador
VIDA has worked with the
Walter Soundy Trust
, a non-profit organization dedicated to improving the lives of underprivileged Salvadorans. The Foundation serves as VIDA's vital link to deliver medical supplies to over 35 health institutions in the Department of La Libertad. From providing antibiotics to the Oscar Arnulfo Romero home for orphaned children to delivering wheelchairs to the St. Vincent de Paul rest home for the elderly.
To date El Salvador has received 20 containers worth over $8 million in meidcal equipment.
Honduras
When Hurricane Mitch hit the coast of Central America in October of 1998, VIDA was well prepared to aid the rescue missions after the hurricane's destruction. Within weeks, VIDA delivered its first container to Honduras carrying $642,000 in medicines and medical supplies to the millions of people left devastated in the hurricane's wake.
VIDA now works through the San Francisco Bay Area Honduran Association and Global Healing with much needed medical assistance to this Central American country.
Nicaragua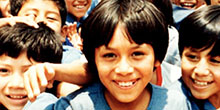 A father waits for a medical consultation at the Dispensario San Francisco de Asis in Managua, a center staffed by volunteers and funded through private donations. VIDA equips the center with antibiotics and medical supplies. Maria Mercedes Arguello, the center's founder states: "VIDA has been an invaluable resource for the dispensario. We simply don't have the means to provide all the medicine and supplies necessary to treat our patients. The support of VIDA has strengthened our program and allowed us to care for many more patients."
While VIDA has been sending medical iad to Nicaragua since 1996, VIDA-Nicaragua was established in 1999 to better serve the needs of the country, as was the case after the devastating Hurricane Mitch, in which relief efforts VIDA was actively involved from the start.
Bolivia
In April 2008, VIDA sent a container to the Hospital del Nino in La Paz. Dr. Christian Fuentes, director of the Hospital, received $735,819 in medical supplies and equipment. Dr. Fuentes works with the Hospital del Nino to treat physically and sexually abused children in La Paz.These children will be able to enjoy better treatment to their injuries and physical and mental traumas.
Mexico
VIDA representatives traveled to Mexico to assess the needs of the area and establish a relationship with a group of professional women in the health field who were trying to improve the access and quality of health care of Mexicans in need. Later that same year, VIDA-Mexico was established by this group of women, with the support of VIDA-USA, in Zamora in the centrally located state of Michoacán.
With 4 million people, the state of Michoacán is similar in size and population to Ireland, but dialysis services for low-income persons are only available in the capital city of Morelia. VIDA's first project was the establishment of a permanent dialysis center (Centro de Diálisis VIDA) at the General Hospital in Zamora with 6 Cobe C3 machines sent from the United States. Patients now will not have to travel such long distances anymore to receive much needed dialysis treatment.