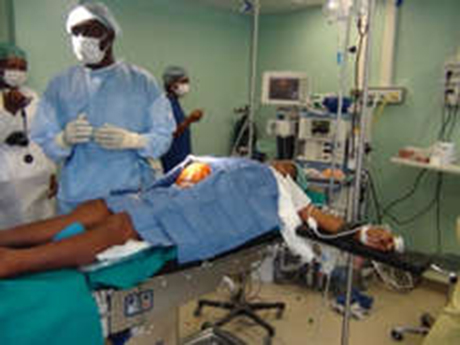 VIDA is preparing our June 2013 shipment to Haiti with our shipping partner Otis McAllister to benefit our partner St. Damien Hospital, the premier pediatric hospital in Haiti that provides all services free of charge.
St. Damien's provides high quality medical treatment for disadvantaged and sick children in Haiti. More than half of all patients are admitted for an infectious disease such as tuberculosis, malaria, and HIV while twenty-five percent are admitted for non-infectious diseases such as cancer, cardiovascular disease, and kidney infection. Most patients admitted are also malnourished.
The outpatient clinic treats 100 children daily, for acute, parasitic, and bacterial infections. In specialized clinics, chronic conditions such as sickle cell anemia, congenital heart diseases (CHD), tuberculosis and cancer are treated for months or years if needed.
St. Damien Pediatric Hospital and associated public health programs of NPFS reach over 30,000 children annually. St. Damien's Hospital has 120 beds, including an 18 bed emergency unit, 10 bed pediatric intensive care unit, and 9 bed cancer center.
The VIDA shipment contains $500,000 in critical medical supplies including patient gowns, exam gloves, syringes, surgical kits and a large assortment of patient care supplies.
If you would like to help VIDA in delivering supplies in Haiti – contact us directly or give online thru our partner Global Giving.