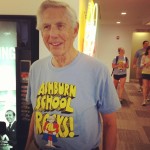 VIDA looks forward to collaborating with the team of volunteers from the San Francisco office at our Emeryville warehouse where dozens of pallets of donated medical supplies stacked 12 feet high await them! A full day of fun and accomplishments.
Golin has had a long-standing relationship with the communities in which it does business worldwide. For many years, every office has given back to their local communities throughout the year, and continues to do so. In 2009, they instituted an annual, global community service day, Al's Day, in honor of the founder, Al Golin. Al's Day exemplifies Al's "Trust Bank" philosophy, which encourages others to make regular "deposits" of time and resources to help give back to their local communities.
This year, Golin celebrates its sixth annual worldwide community service initiative, Al's Day.
Golin offices around the world celebrate Al's Day by participating in activities ranging from volunteering at Café 458 in Atlanta to feed the homeless; to working with Little People, an international NGO providing care for children and young people affected by cancer in Bucharest; to painting murals and helping the Ashburn Community Elementary School in Chicago prepare for the new school year; to spending the day with the kids at Manzil Special Needs School in Dubai; to volunteering with client Ronald McDonald House Charities in Shanghai.
#GHAlsDay